Our Latest anthology - Songs from the Underground - is now available for pre-orders: Go to products page.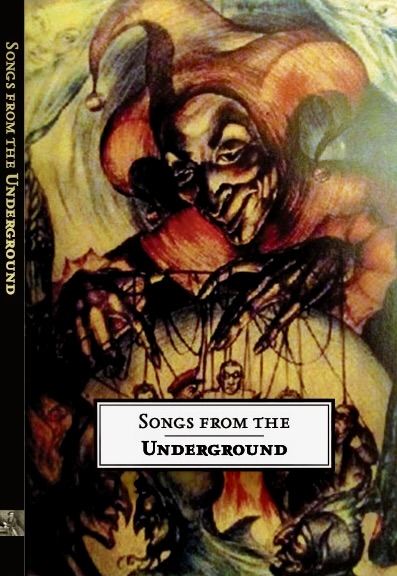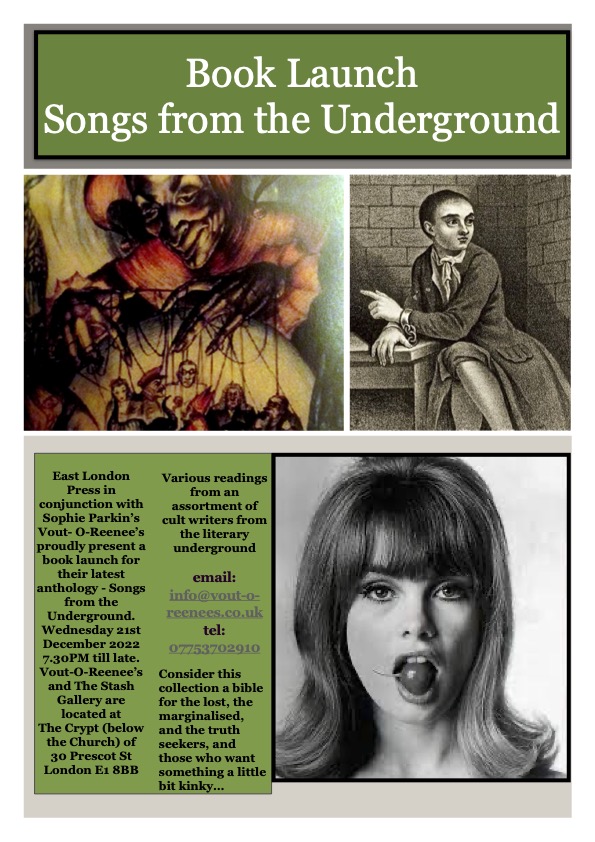 3 Poets 3 should be with us by the end of March. 3rd in our new series - 3 Poets - featuring the work of Jared A Carnie, Brian McGettrick & John D Robinson
A 2nd print run of Joseph Ridgwell's sold out short story - Haiti - has landed at ELP HQ. Copies are now available from the products page of this website. The 2nd print run is limited to an edition of 55 copies, hand-bound and hand-sewn.
Our new series - 3 Poets - has been a great success with the first two books in the series selling out within days of publication, and in the case of 3 Poets 2, selling out before the official publication date. We are currently accepting subs for 3 Poets 3, and have already accepted the work of Belfast based poet - Brian McGettrick.  So, calling all poets, please send us your best work. 3 Poets are handmade, limited edition books, designed to fit snugly in your back pocket.
Exciting News! ELP kicks off the summer of 2019 with the first book in our new Pocket Book Series. Featuring the work of cult favourite - Joseph Ridgwell. The mind-snapping short story - Ibiza - is now on sale. A hand-sewn, hand bound, letter -pressed craft item limited to an edition of 50 copies. Grab a copy before they sell out! £4.99 per book plus P&P.
Our latest publication - Joe England's debut novel - Hudson Lamb is Innocent - is now ready to order!
Newsflash: It is with great sadness that ELP can inform it's readership of the untimely demise of PUSH magazine. Push, the magazine, was of course the inspiration behind the two ELP anthlogies - PUSH 1 & 2, which are still available to purchase from this website. Head Honcho of PUSH - Joe England - has announced that issue 23 of the magazine will be the last ever. Established in the spring of 2013, PUSH was a runaway success from the very outset, and was soon to become the inspiration for several other DIY punk zines - in what has since been labelled  -the UK Zine renaissance. PUSH was a major showcase for cutting-edge working-class fiction that was somehow overlooked by the mainstream. It was also the catalyst for the founding of East London Press in 2014, a press that was set up primarily to provide an outlet for the publication of working-class fiction. And yet it is not all doom and gloom. ELP is committed to the publication of yet another PUSH anthology - PUSH 3 , which will be published in 2017. So PUSH is dead - long live PUSH!
Excellent Review of HP Tinker's brilliant short story collection - The Girl Who Ate New York - at 3Am Magazine
FAB article by Kyra Hanson on all things PUSH at - The Londonist
ELP Newsflash! HP Tinker and & PUSH regular Joseph Ridgwell will be in attendance for a double book launch at Sophie Parkin's private members club in East London on 19th December 2015. See link for details
http://vout-o-reenees.com/events/double-book-launch-joseph-ridgewells-hp-tinker/
Meet the elusive and mysterious HP Tinker and cult author Joseph Ridgwell in person. All copies of books plus PUSH 1 & 2 will be available for purchase at a special discount price. 8PM till Late. 
Newsflash! HP Tinkers brilliant short story collection - The Girl Who Ate New York - has finally arrived at ELP HQ
The next East London Press book party goes back to our roots. London Saturday 7th November 2015. See flyer for further details. 
The next East London Press Book Party is in beautiful Edinburgh on Thursday August 13th at the legendary book shop - Word Power - see flyer below for more details -
Coming Soon...
West London PUSH Book launch Thursday 19th March - see flyer for further details: 
Excellent review of PUSH at the Skinny: Click on link below:
PUSH Editor Joe England has been a busy bee. Check out his Derry exploits at Little Acorns Bookstore and his radio interview with Michael Bradley at BBC Ulster, and an article in the Derry Journal. 
Joe England PUSH radio interview
To mark the publication of our first book - PUSH - The Best of the First Ten Issues - We at East London Press have decided to hold a book party. The not to be missed event will be held on Saturday 6th December at Orford House Social Club. See Flyer below for further details of this literary knees-up!
Books have arrived!